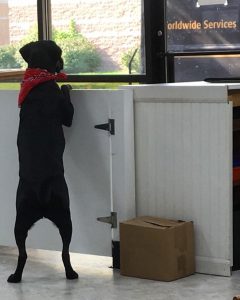 Once you've a received a preliminary estimate and have decided to proceed we'll share our shipping address. This eliminates unnecessary shipping back and forth.
When your piece arrives we'll examine it and contact you with a firm quote, collect your payment information and email or text you the work order. A 50% deposit is due at this time. The balance and return shipping is due upon completion and before your item is returned. We will email photos of the finished work. The turnaround time is typically between four and twelve weeks (not including ship time) though it can be longer/shorter depending on the complexity of the job and the amount of jobs in the studio at the time. We strive to provide a quick turnaround time without compromising quality.
We've worked with people from all over the country and are excited to see what you send us!
314-704-3390 (text or call)
info@sundogrestoration.com
*Important: Please print the customer form, fill it out and include it in your box. We cannot begin work without it*
Please read:  We've shipped hundreds of items successfully. It's rare that things have not made it home intact. But there have been breakages. This is upsetting to all of us. Your box will likely pass through many hands before returning to your door and we can't stress enough the importance of using new, quality packing materials. Please pack in accordance with your shipper's guidelines for shipping fragile items. This often includes using a new box with a burst value of 200 (this number can be found on the bottom of a UPS box), double boxing, and using the appropriate type and amount of void fill and cushioning. We'll keep your packing materials for the return shipping; though we may have to charge you for new materials if the item no longer fits in the box after it's been repaired or your original materials were not adequate. **Please understand that we have no control over how others treat the box once it leaves our possession and cannot assume liability for damage incurred during return shipping. Nor can we redo any of our work at no cost.
A word about claims: If you intend to declare a value on the box we strongly urge you to allow us to have the carrier pack it. Should damage occur they'll want several pieces of information including several photos of the box and of the packing materials that were used. They'll also expect you to provide proof of your item's value with either a receipt or evidence of its current market value (or that of a similar item). If anything is amiss-wrong size of bubble wrap, wrong kind of void fill, wrong type of box-they will not pay the claim. The best way to avoid this is to have the carrier pack it. We use the UPS pack and ship guarantee. This adds to the cost but it's the best way to have a claim resolved in your favor should damage occur.