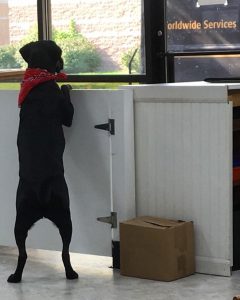 We're always excited to open the boxes that come our way-they contain so many interesting things! However, please wait to hear from us before shipping your box. We strongly urge you to have your item professionally packed. When your item arrives we will do a thorough evaluation and will email you a proposed work order. A 50% deposit is due at this time. The balance is due upon completion and before your item is returned. We will email photos of your finished work. We have worked with people from all over the country and are excited to see what challenges you send us. Once you have received a rough estimate and we have given you the "go-ahead" please contact us for the shipping address.
314-704-3390 (text or call)
info@sundogrestoration.com
*Important: Please print the customer form, fill it out and include it in your box. We cannot begin work without it*
Please note that the $30 estimate fee will only apply if you decline having the work done. Job completion may take several weeks or even months for more complicated jobs. We strive to provide a quick turnaround time without compromising quality. Being in demand may require us to use a waiting list. Each piece is unique and will require a different treatment plan making it difficult to predict how long it will be until we are ready for your piece. We will contact you as soon as possible!
Please read: We have shipped hundreds of items successfully. In fact, it's rare that things have not made it home intact. That said, there have been mishaps. This is heartbreaking for both of us. You have invested your money and trust and we have invested hours of exacting work. Your box will likely pass through many hands before returning to your door and we cannot stress enough the importance of having your item professionally packed. This should be considered as part of the overall cost of having a professional restoration. At a minimum you should pack your piece according to your shipper's guidelines for shipping fragile items. This often includes using a new box with a burst value of 200 (this number can be found on the bottom of a UPS box), double boxing, and using the appropriate type and amount of void fill and cushioning. We will retain these packing materials for the return shipping in an effort to both save you money and to be more environmentally responsible. We do our best when packing but it should be noted that we are not professional packers. Please understand that we have no control over how others treat the box once it leaves our possession and cannot assume liability for damage incurred during return shipping.