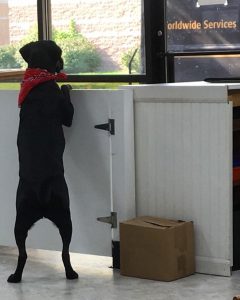 Once you accept the preliminary estimate and are ready to ship your box we'll give you our address. This helps us keep close tabs on expected work.
When your piece arrives we'll contact you with a firm quote, collect your payment information and send you the work order. A 50% deposit is due at this time. The balance and return shipping is due upon completion and before your item is returned. The turnaround time is typically between four and twelve weeks (not including ship time) though it can be longer or shorter depending on the complexity of the job, cure times and the amount of jobs in the studio at the time. We strive to provide a quick turnaround time without compromising quality.
We're excited to see what you send us!
314-704-3390 (text or call)
info@sundogrestoration.com
*Important: Please print the customer form, fill it out and include it in your box. We cannot begin work without it*
                                                           RETURN SHIPPING
Please read: We encourage you to let us have UPS pack your item. Should it be damaged in transit you'll have a significantly better chance of having a claim resolved favorably and more quickly than if we pack it. You'll incur the expense of new packing materials but there are no additional fees on our end. We'll add the UPS charge to the balance due on your work and recycle your box. Shipping "the right way" can be expensive and should be a consideration when deciding to have your item restored.
If your item is particularly fragile or high value, it no longer fits in your box after it's been repaired or your original materials are not adequate we will require that UPS pack it. But it's not a requirement for all pieces. Should you choose for us to do the packing please use new, quality materials as we will use them to ship your finished work. Please make sure there is at least 2" of void fill between the item and the box. Double-boxing is also highly encouraged.  **Please understand that we cannot assume liability for damage incurred during return shipping. Nor can we redo any of our work at no cost.